Awakening Support & Environment
Your external components: Enlightenment Framework No6
Pillar No6 in the Enlightenment framework is your environment and what you have around you to support a higher vibration.
The first five pillars are core internal aspects and about you only.
This pillar and those that follow fill out other aspects to round out the framework.
In this pillar we address the you are what you hang around.
Your environment, community and those that give support in your growth to advance the your Awakening and all of the 9 pillars.
Some of us are Trailblazers in our community and social setting. Thus we may not have access to a decent community that gives the mental, emotional and spiritual support to take us deeper. These difficult situations can spur you on to try harder. This was certainly my case for many decades, as I share in the About Me videos. It does make it harder, but the depth gives more learning at the price of hard won wins and Awakenings.
Supportive Community
Laws of Success No7
Community is Law No7 in the 10 Action framework l call the Laws of Success. The Laws of Success applies to all fields of endeavour, and these laws were initially based of Arnold Schwarzenegger's five core laws of success, as he is truly a successful person.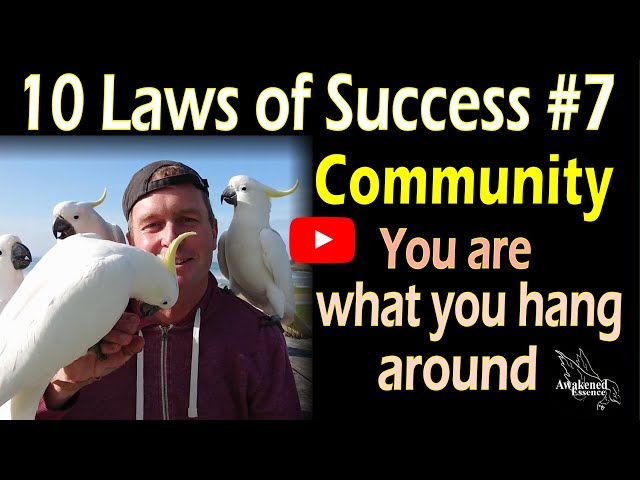 Here at AwakenedEssence we have a limited number Mastery Club to provide a community of peers and activities. So hit the below button and learn more about this community that is based in the learning and advancement of the Laws of Grace and this Enlightenment framework!
There is a variety of activities and interactions to meet people and develop these profound Awakening skills and apply them in life. When the shallow stuff in life no longer interests you it's time to find that flock of Eagles to fly with.
Mastery Club: Your community
You are what you hang around, so Fly with the Eagles not scratch with the turkeys. Online Mastery Club with a variety of group sessions, activities, support systems & monthly workshops at the cutting edge of evidence based Awakening
---
Rolemodels and Mentors
Laws of Success No9
Who do you truly admire and want to emulate? What are their qualities? Who has achieved and lives what you want? Study these people and find out how they did it. They lay the path for you, no need to reinvent the wheel. The below video is about rolemodels and Leadership; the No9 in the Laws of Success video series for application of the Laws of Grace. Pillar No9 of the Enlightenment framework is this Awakening approach applies to all areas of life!
To create everything yourself is a hard journey, this I know too well as I have always been a Trailblazer. Hence this Enlightenment framework and the Laws of Grace. Even the Correct Presence course is defined and clear to a new level over Eckhart Tolle's teaching. Here we deal in specifics and no belief systems, it's all evidence based in life through application.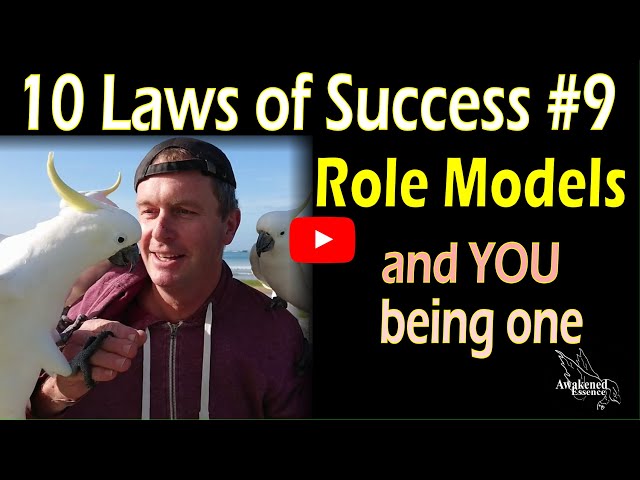 ---
Look around you, who is a rolemodel and leader you admire? Try to go and see them. If you can ask them a question and see if they will give you any gems of insights to help you. This is what I do. When I got interested in NLP I had access to a world leading trainer and his trainers in my home town. I was lucky to have him supervise me when I worked with students.
Apply this to your hobbies, workplace and of course your spiritual practice.
So here is your chance, the clarity here can be part of your life with coaching. The pricing is below so hit the button to book a session and experience this level of clarity with personal feedback as it relates to just you. We are all unique so the have help that suits how we personally tick is a gift of a lifetime. This is what I have with my Coach and Supervisor, a 21 year blessing to me so far!
If you are curious about coaching or the Mastery Club make contact. Perhaps it will become obvious as you work through this 9 pillar framework that is here 100% only in this website (many will not be listed in the my YouTube channel). My role is to help you on what ever path you choose. It's the evidence of real shift in your life that counts as you progress towards and deepen into true Awakening is all that matters.
---
---
One-on-One Sessions: Personal Feedback is best
Personal Sessions offer the greatest level of insight and change. It simply cannot be beaten. Any topic and any service offered in this website be that Awakening coaching or healing services. Smash your Blind-Spots and tendancies that keep you stuck. This makes it real and specific to you.
Book a free 25 min phone chat when you send a booking email with the required information. Alternatively your initial 50 minute* Skype/phone call will be extended to 90 minutes.
Casual session rate rate: $150* per standard 50 minute Skype or phone session.
8 weekly sessions: One upfront payment of $960*. That's $120 per session, saving $30 per session or $240.
Mastery Club Members: Discounted pricing of $100 per session with booking priority.
* = per payment TnCs and service agreement.