Laws of Grace Mastery Club
Private online limited number peer support community
Awakening in isolation is difficult, having your flock or tribe is extremely beneficial. Pillar No6 in the Enlightenment framework is community and support. A group where one can reflect and enjoy clarity is a profound boost for you area of interest, in this case evidence based smooth Enlightenment. The limited number Laws of Grace Mastery Club is designed to support the development of evidence based Presence practice through a variety of voluntary activities. A place where people can contribute, share, seek support and venture into new ways of improving our spiritual and human lives. To have a community of people who are learning and implementing these core Awakening skills, the Laws of Grace, means your skill sets and journey can be so much easier.
Watch the introductory video below where, as usual, Grace demonstrates perfectly. Observe the darling alone cockatoo go through its journey from being alone and scared to cozy and OK with me kissing it as it sits on my shoulder. Notice how it becomes more comfortable as other cockatoos turn up. Us humans are the same, with good company we can thrive. Good company is an additional and important Law of Grace.
The aim with the Laws of Grace course and Mastery Club is to assist your awakening in everyday life. Not only do we cover the spiritual practices and the hurdles, you will learn how this integrates will all life's aspects. And this is a differential point with this approach: You do have a mind, and ego, human psychology, with feelings and a body that has DNA. Enlightenment needs to embrace all your humanness, that is the only way to end the internal war. The Laws of Grace focus on awakening you in an integrated fashion. And yes, we may also cover spiritual topics such as healing if Mastery Club members want it.
Mastery Club Summary
What's in it?
The Mastery Club has a variety of activities to assist your progress into the depth of yourself in a way that is practical. Participants can try the different ways to interact and contribute. All activities are voluntary. The supportive culture of this group will help encourage interaction. The group will be focused with activities on Presence habit formation and the 9 pillars and topics for people to contribute and share new learning.
As discussed in a core pillar of the framework, Law Zero videos (self honesty and self responsibility) the approach taken in the group will naturally help develop the prerequisite base of a competent human. To grow your self-honesty and self-responsibility is an endless process. As your Awakening deepens you will face new lessons and your new-found abilities and greater acuity will be tested for evidence based outcomes in life.
Summary of Main activities:
In brief here are the core club activities. Tap the below links to jump down and read more and see the specific video on this topic.
Summary of Main activities:In brief here are the core club activities. Tap the below links to jump down and read more and see the specific video on this topic.Multiple Online events every month:
Multiple Online events every month: The video recording will be available in the facebook group to participants who can't attend, and for later reference. Additional live or video events may relate to the esoteric aspects such as Golden Ray, Reiki or other esoteric aspects. There will be plenty of new and interesting aspects to observe and apply.

Peer support community: A private closed Facebook group will provide a forum for community interaction. This is where the new and unfolding Digging Deeper course is.

Monthly workshop / Group projects: Research, apply and share the results. We will explore cutting edge issues that will take us deeper and faster. I have so many burning questions that will cut through the nonsense that keeps people lost, so there will be no shortage of live workshops here!! It does not take much to spark me into creating amazing workshops, so throw a great question at me in the Mastery Club. The Digging Deeper course will be an avenue, so throw in a question and lets see what unfolds. A great question is often a trigger for something new.
Peer buddy system: Peer support, community & accountability. Nothing beats having support and accountability, this will help our 'core multipliers' as I term them in the Laws of Grace.
Exclusive content: Some material will only be available in this Mastery Club n 2021 this will be the Digging Deeper course where we explore the 9 pillar Enlightenment framework. Often the newer and cutting edge stuff will be here for members to digest and use. Some of the core aspects of the Awakening process and the Laws of Grace will only make it here.
This will give more fresh material for those that have a daily routine that involves listening to material that deepens their habit to be Present.
Multiple Online events every month
At least 3 times a month there will be an online group broadcast for up to 50 minutes (or more). If this is missed a recording will be available to club members in the Facebook group. These three sessions will focus on aspects of the Laws of Grace and the 9 pillar Enlightenment framework. Depending on the participant mix or a votes in a poll we may explore some spiritual or healing topics.
Question and answer time to help clarify questions posed in the Mastery Club, in polls, or Research Topic material such as the conclusions and discussing the issues. This may be the predominant aspect of the online group session.
Club members will be encouraged to share challenges, questions or topics they want to explore.
Online peer support community
A closed private Facebook group will be used as an easy access forum for us to share and communicate. The Laws of Grace Mastery Club is about having people who are going through the same processes and issues. This closed facebook group will be where the Laws of Grace material can be discussed, and the typical facebook banta and claiming is absent so each post and comment is either supportive or gives quality feedback based on the.
A closed private Facebook group will be used as an easy access forum for us to share and communicate. The Laws of Grace Mastery Club is about having people who are going through the same processes and issues. This group will be where the Laws of Grace framework material can be discussed. As we will be using the 9 pillar framework, and especially pillar No3 Rules of Evidence and No4 Law Zero the typical Facebook banta and claiming is absent. This is a safe forum to explore and share what is 100% for you. Thus each post and comment is either supportive or gives quality feedback based on the Rules of Evidence. This will assist everyone in forming the new habit of being Present while they engage in social media and device use! As numbers are capped to 50 individuals we will grow a strong community that is based in real life evidence. A real Laws of Success No7 Yay Saying community!
This means any issues can be settled faster as concerns or confusion is clarified. A Facebook group acts as a central hub that is easily accessible by all to the resources of this club (unless a better forum is found).
Fellow members will also be applying these skills and methods in the same setting as you. It's a great way to build the habits and focus that form the basis of Presence and a better life. Checking-in with the group helps affirm to your unconscious mind (pillar No5) that this is the goal, where the outcome is you live by default habit as Presence. Living in Presence by unconscious and conscious default is a sweet place to live.
Monthy workshop / Research
Apply and share the results: Be at the cutting edge!
A workshop or research project question will be presented to the group each month. Taking part in the workshop or research projects will help focus in one area of the Awakening and Presence process. We can share our learning and our insights with the group. This is a profoundly powerful way to deepen your practice.
What's really exciting is this website and it methods are at the cutting edge of Neuroscience (as I explain in the video), so the participants can help with exploring the potential of human development. We can test and try and bust these Laws of Grace and the 9 pillar framework!
Our experiences can help develop these practices and make them more powerful. We will base all this in applying the Rules of Evidence. This will help you embed these new practices and experiences faster. I have some ideas to explore that are truly amazing, and I'm sure some great ideas will be posed by members to explore.
I personally have a long list of workshops I want to create, but this is about community and what is 'hot' for the group to maximise the deepening for everyone in the club. In this below video I parallel Arnold Schwarzenegger's story in Conan the Barbarian where he speaks of dealing with pain and bleeding as he crawls across sharp stones while filming. The director asked if they could do another take. He said 'Of course all I see is the end product'. Notice as I speak in the video how I use the feedback loop of pain. There are a few live videos now where the cockatoos make me bleed, my response is consistent. Presence is OK with everything, though your humanness may not enjoy it one bit.
Presence gives me the ability to stay composed and coherent. The Presence really does help rapport with the wild birds, yet again this is clearly demonstrated. This video demonstrates Rules of Evidence regards pain, staying coherent with complex tasks and rapport with 100% wild animals.
Participants will be welcome to share their personal experiences with the project be that in writing a post or a video. This can reflect the person's personal learning and productivity style. For example I'm very comfortable and fast at making videos. My personal weakness is writing, and it's a long slow process for me.
Peer buddy system
Peer support, community & accountability
A peer 'check-in' system will be made available for those that want it. This is where you are randomly assigned another two members of the Mastery Club to have check-ins with at least once a week. This is to explore different things and get to know someone else in the group. This Mastery club is about peer support and developing community. Hearing and understanding the issues of another person who is doing the same thing can be very helpful.
In the video below I describe the peer check-in system. It's a chance to share your progress, or what is holding you back. Verbalising to another can be very helpful. It is also a gentle external check to bump your activation of the core multipliers of Presence practice. This can be very useful to help motivation and application to master this habit.
A further benefit of this buddy system it helps build a community of people who know each other.
This will help generate questions and feedback for you and things that can be brought to the group.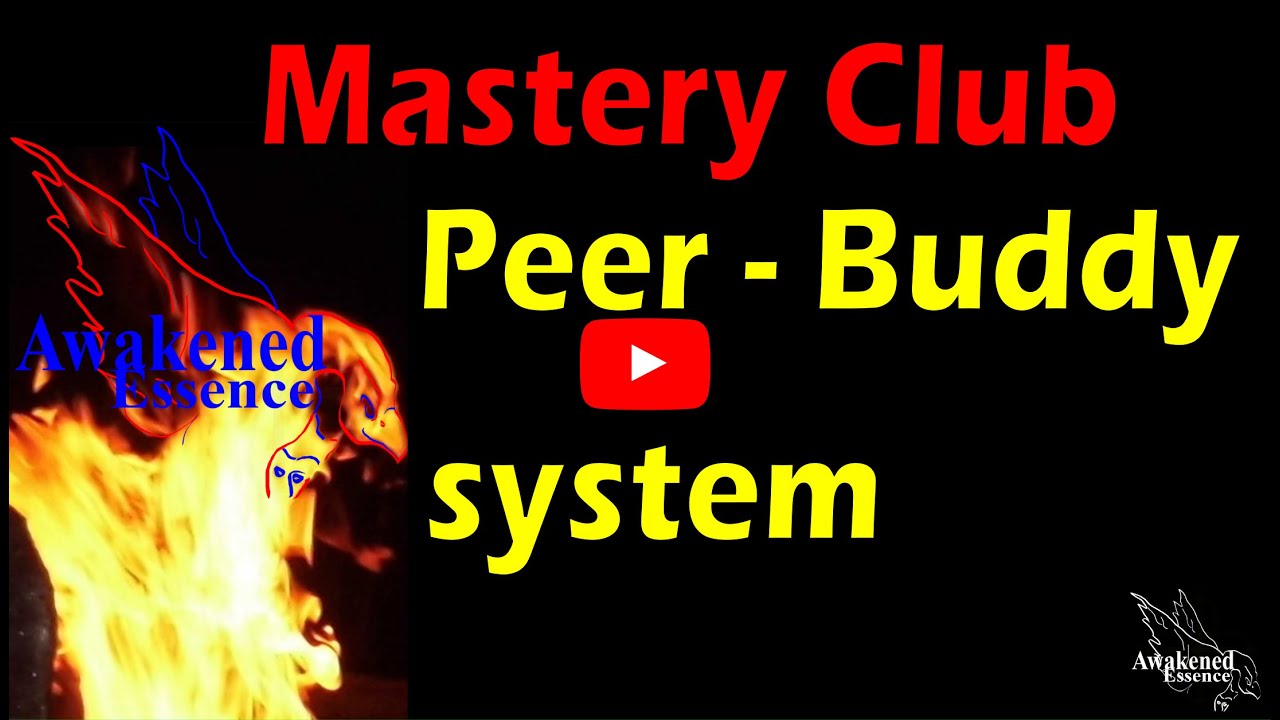 The feedback or questions from your peer check-ins can be used as a group fb post or given as questions for us to cover in the online group sessions. If you are in 1on1 coaching you and I can then delve deeper into any questions with me.
It will be encouraged that this be done with something like Skype or Google Meet, but you are welcome to use what ever forum but preferable with video or phone call. This is to enhance your Presence skill set and perhaps get you out of your comfort zone. If you do feel uncomfortable with meeting new people then that is an excellent area to focus on with your Presence practice and success journal, we would love for you to share your learning process with this.
Using text only platforms is very one dimensional and it retards learning and life skill development. Seeing the other people's face is by far better but is optional. This assists trust and group rapport.
Some topics that are more private in nature can be discussed in the buddy calls, then that may help you to share it in the group if you want.
As part of the enrolment process we will discuss this to help you get clarity on it. then you can decide if you want to be part of this buddy system or not. You are welcome to opt in or opt out of this at any time. You can add or remove yourself for the following calendar month.
You will be randomly assigned one or two buddies for the calendar month. Hopefully so you meet new people. You are welcome to stay in contact by any means with prior buddies if you want. With two buddies is a greater chance that some interaction can happen.
As a group we will do feedback polls every now and again as to how to improve modify the buddy system. Over the lifespan of the club this means we can change the culture so it improves.
Tap to get back to summary
Monthly intentions
Accountability & motivation
Each month there will be a post for all club members to state what they want to focus on, make progress with for the month. This is a great chance to increase your core multipliers that we discuss in the Laws of Grace course. It's a chance to work on the 10 Laws of Success and see what can progress can be made. It's a chance to explore, stretching yourself and 'missing the mark'. There is no wrong and there is no fail, as it is about learning and finding the feedback from every attempt. Each time your discernment (self honesty has many complex aspects) will increase as you feel the nuances in your neurology, body and space of Presence.
In this video you will hear me explain how well I do when it comes to setting big goals. This is Laws of Success 2, I Think Big and I do what I can. This has Law 6 Balance implications. Its easy to set big goals in a success journal but as it is private there is no accountability. If I share these with friends and they say 'I'll call you on that', I do get more done.
This Mastery Club will certainly assist me as well. This is why I am setting this whole Mastery Club up, as it was what I wanted all along! Running this group is Law 9 Role-modelling & Leadership for me. I live what I share here and I am always keen to make improvement. (Laws of success video pages coming soon)
This is a positive method for motivation as it adds accountability to your peers. As with everything in this group Mastery Club it is optional. This Monthly intention exercise is designed to assist you in monitoring your progress and understanding your motivation. It will give valuable feedback on setting goals and what you are capable of doing. If you set goals too high, then that is also good feedback. This will help you learn what is realistic. Realistic workload goals assist action, huge goals may overwhelm.
The group accountability exercise gives you a chance to hone your Presence skills. Another benefit to this is it gives you feedback on the 10 Laws of Success, especially Law 6 Balance., Law 2: Thinking Big and of course Law 4: Work Your Ass Off (links for these coming soon).
If at the end of the month you have not met your goal the feedback may be why, and was it too much or was it too little? Is there a blindspot (discussed in the Laws of Grace online course)? If you are also in the buddy system chat this through so you both learn more insights.
Per the success journal page even if you failed in your intentions the feedback is to take learning as to why this did not occur. Typically this will help you notice what you are avoiding and make a focus point for you to inquire about, or bring to a coaching session. There is no such thing as fail except for not examining the feedback so you learn. Unearthing your unconscious habits that slow you down is the way to move to a better life. Presence and Awakening is a non-stop process. After you hit Abiding Awakening the journey starts all over again, the tests never stop, and the bliss, joy and happiness grows as you deepen!
Tap to get back to summary
Why a Mastery Club?
A personal note from Jason
For 15 years I was an obsessed spiritual seeker who had had many spiritual awakenings and virtually every (thousands) of 'weird' (drug free) spiritual experience you could mention. Then a close friend in late 2002 told me to read Eckhart Tolle's the Power of Now. I applied myself to this material 100% as best as I could. Within a year I totally closed off ALL spiritual stuff and focused 100% on Eckhart Tolle defined Presence practice only. That meant energy healing, crystals, channel material, sacred geometry, talking to Archangels (etc), the esoteric bodies, energy work and any attention to esoteric material was abandoned for a full decade. I hunted out a real local "Awakened" teacher who talked similar a similar teaching to Eckhart Tolle and Adyashanti. I spent time with this person to gain personal feedback and insight that was tangible and relevant. It only took me 5 years to hit full Abidance as Presence. Only in my sixth year post permanent Abiding Awakening of deepened and matured Presence did I re-open the gates to the esoteric and healing paths (see the 3 spiritual paths for more clarity on these definitions).
I know what it's like to be a pioneer in a new field and to be constantly cut down. In 1989 I was a pioneer in cutting edge study skills at my university. I was ridiculed in front of hundreds of students in lectures as I was the first person ever to use mind maps at my university! Ironically these study skills led to my real Awakening and understanding of the human neurology, psychology and the links to true Abiding Awakening! Unfortunately this sort of tall poppy knocking has been very regular for me as I push the envelope of potential and human knowledge. Having support by others of like mind and aptitude really helps a person blossom. This group is for the earnest spiritual aspirant that wants more.
Doing something new and different is always a challenge and a learning curve. There will always be Nay-Sayers who question. All the great geniuses faced this resistance. Arnold Schwarzenegger's Law of Success No 3 is 'Ignore the Nay-sayers'. He has made that a specific law for good reason. Here is the antidote, a community club of 'Yay Sayers', my Law of Success 7.
My greatest wish is this Mastery Club offers that place where people can learn and grow within a culture to swiftly embed new habits of being Present so Awakening is evidenced in real terms.
This Mastery Club will have input by everyone and we can try different things to see what suits the members, polls will be used to help choose a direction or topics of importance.
Mastery Club: Your community
You are what you hang around, so Fly with the Eagles not scratch with the turkeys. Online Mastery Club with a variety of group sessions, activities, support systems & monthly workshops at the cutting edge of evidence based Awakening